My son Ashton was turning 6 on the 6th of January…so I wanted to plan a fun party for his special "golden" birthday.
For the invitation, I used the photo editing site www.picnik.com to add the graphics to my favorite recent picture of him, then printed them out in a 5 by 7 size.
We love birthdays at our house and I love baking a special cake, and having a fun party for my boys when it is their special day. At the time Ashton's favorite thing was playing Lego Star Wars on his new Wii, so I knew that's the theme I wanted to go with, and I started planning.
To go along with our theme…I made up these plates since at the time there were no Lego Star Wars party supplies. I love that they are personalized and Ashton and his friends thought they were so cool!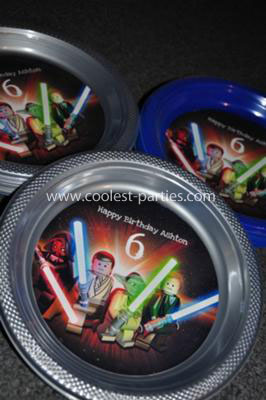 With so many kids coming we decided to have the party at a local pizza place. Before eating our GIANT pizza: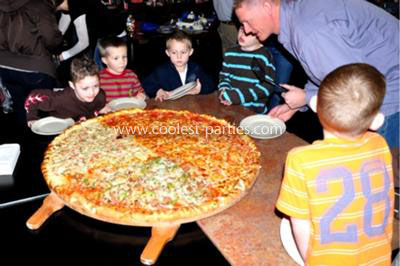 We played "Pin the light saber on Luke Skywalker":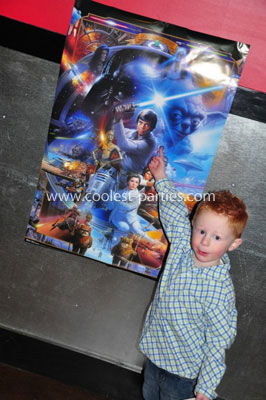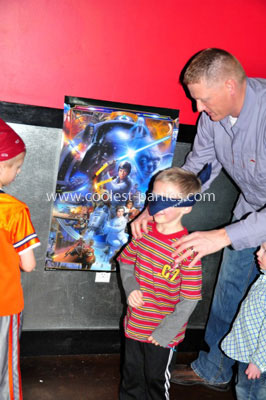 We also payed "Guess how many legos in the jar.":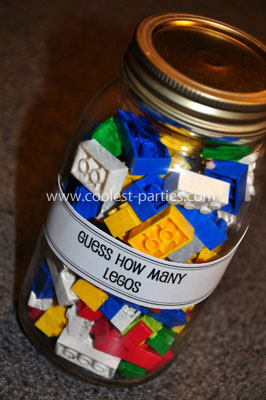 Here is the cake I came up with… It was my first attempt using fondant and it took some time, but turned out pretty well.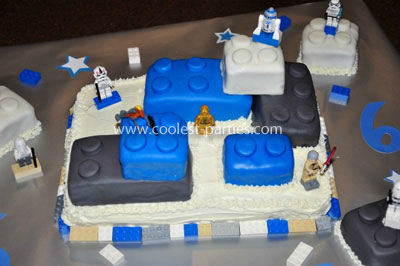 I baked 2 cakes…devil's food cake (out of the box) each 9 by 13 size. The first one I cut up into big Lego block size pieces, then frosted just the tops of them (I tried frosting all sides, but it started falling apart). Then I pulled out my marshmallow fondant that I'd made a few days before and got to work coloring some of it blue, some gray and leaving the rest white.
I used Wilton food coloring gels. Then I gradually rolled out small pieces to cover each Lego. Then I cut out the "dots" with a tiny cup kind of like an old film container and painted a little water on to get them to stick.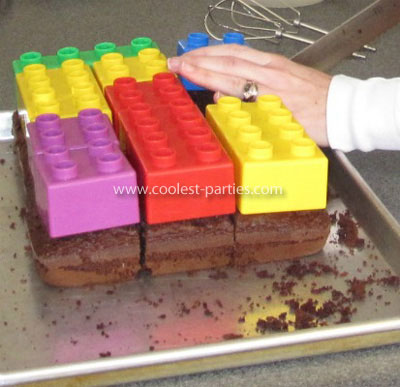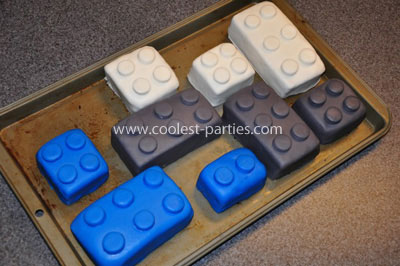 Next I frosted (with regular cream cheese frosting) the other cake and put real Legos all around the bottom, then gradually pieced together where I wanted the big Legos. To hide the imperfect bottoms of them I piped around them with a small star design.
To finish it off, I added my son's mini Lego Star Wars figures and added his name, age and stars to the cake board (that was a cardboard piece covered in silver wrapping paper). All of our guests loved it!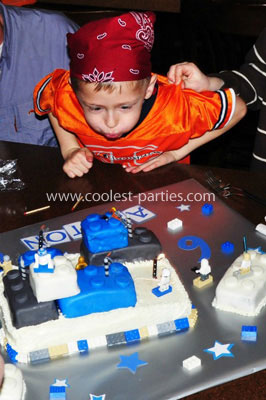 Then it was time to open presents…that was just a madhouse with 15 six year olds!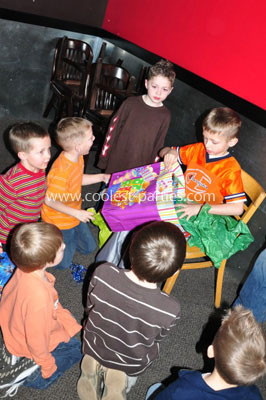 Before it was time to say goodbye, we handed out these party favor bags containing lego candies, Star Wars stickers and these book marks I made up for all the boys.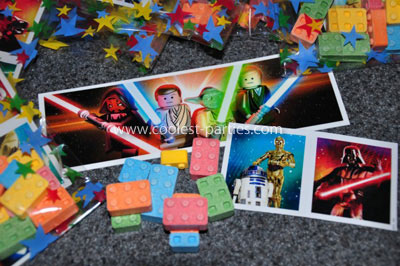 It was such a fun party! I can't wait to come up with a theme for next year!