Ready to set out on a cool Dora the Explorer kid theme party adventure? Let's Vamonos!
First off, there's an overwhelming selection of Dora the Explorer party supplies and party packs. But don't worry. You won't need to browse around forever trying to find the best deal. Just compare between these Dora party packs below:
Dora Invitations
A cool do-it-yourself invitation idea is the passport invitation. Photocopy or scan the outside of your passport, then print it out and add some Dora stickers. Write something like:
"This is your passport for the Dora the Explorer birthday filled with fun and excitement. Dora and (Birthday Kid) will be leading an expedition through (your address).
You can add a map with directions by drawing Map (one of Dora's best friends) and write "I'm Map…and I'm here to show the way to a muy bueno adventure to celebrate kid's name birthday!".
Dora Decorations
Separate the kid theme party area into different settings taken from Dora the Explorer. For Windy Valley, attach many blue streamers to fans so that the streamers twirl around. For Rainbow Road, cut a bunch of blocks out of construction paper and tape to the ground. For the notorious Crocodile Lake you can either fill up a kiddie pool with water and put floating crocodiles in it, or place a blue sheet on the floor and put every crocodile or alligator toy you can find, buy or borrow. For the Spooky Forest you can hang green vines and Balloons overhead.
Remember to put up signposts in each section of the kid theme party just to make sure the kids understand (and appreciate) where they are. You can also hang up arrows pointing to the other areas.
As for general decorations, set up the kid theme party area like a Fiesta. Hang bouquets of tissue paper flowers, streamers, and balloons, in colors of red, yellow, purple, turquoise, and orange.
On the tables turn a Sombrero upside down, and have balloons anchored to the inside of the hat. If your kid has any Dora-related toys, place them on the table for a more festive display.
Hang banners around your house saying "Feliz Cumpleanos!" ("Happy Birthday" in Spanish) which will definitely give a "Dora-ish" feel.
You can make a meandering trail into the kid theme party room using brown paper and decorate your doorway with green crepe paper for hanging "vines". Use chalk to draw big animal footprints on your driveway and leading to your front door. Inside you can put construction paper animal prints that can guide the kids to the party area and the different Dora the Explorer settings.
Costumes
Here are some great homemade dora the explorer costumes that can give you inspiration if you need for your Dora party:
Take a look at all the coolest homemade Dora costumes.
Dora Icebreaker Activities
When the kids arrive, take their "passports", stamp them with a special birthday stamp you can create beforehand, and get them going with any of these activities:
Noisemaker Shakers
These are great kid theme party noisemakers to parade around the house with! Use plain white paper plates and beans, rice, macaroni, or buttons, etc. Have the kids fold a paper plate and staple the edges halfway up. Then let them put a few scoops of beans inside and finish the stapling (you should tape the staples to avoid any poking ends). Let the kids decorate them with markers, crayons, stickers, glitter, etc. (If the kids are too young to be fooling around with staplers, make these beforehand and just let them decorate them). To make bigger shakers, don't fold the plate in half, just turn a second plate upside down and staple it to the first around the edges. (Empty film cases with rice also make good noisemakers).
Dora Bracelet
Have the kids string yellow beads onto elastic string. They can also put a flower bead in the center of the string for a bracelet just like Dora!
Binocular Craft
Have the kids take two toilet paper rolls, styrofoam cups, etc., and glue or tape them together. They can decorate their binoculars with all kinds of stickers, glitter, stamps etc. Next they can cut out cellophane circles (or colored saran wrap) and attach to the carton rolls with rubber bands or glue. You can then attach yarn for a nice neck strap.
We had the binocular craft at my daughter Maya's 3rd birthday and it was a hit. I photographed the entire process and put together this page with all the info (and a few pictures from the party) to help you create your own Styrofoam cup binoculars:
Homemade Dora Cakes
Take a look at all the coolest homemade Dora birthday cakes.
Dora Party Food and Drink
Dora the Explorer Kid Theme Party Food
Monkey Meal (Peel a banana and put it in a hot dog roll…. Then spread peanut butter and maybe a bit of honey and you'll be amazed at how tasty the monkey sandwich is!)
Swiper Chicken Quesadilla
Big Mountain Cheese Enchiladas
Prickly Forest Taco Bar (let the kids build their own tacos from crispy corn tortilla shells, ground beef filling, shredded lettuce, grated cheese, chopped tomatoes, sliced olives, salsa, sour cream, etc.
Spanish rice
Dora the Explorer Kid Theme Party Drinks
Alligator-ade (green Gatorade!!)
Swamp Juice – Kids will be mystified when they witness your power to turn ordinary green Gatorade into a steamy swamp! Start with green punch and after you've placed a filled glass in front of each kid, add a few Pop Rocks candies to each one. Since this candy is processed with carbon dioxide, it will crackle, pop, and split when it comes into contact with the green punch. AWESOME!
Pineapple Punch – This is a great tropical drink that'll really make the kids feel like they're out exploring with Dora! What you need to do is combine two 46-oz. cans of pineapple juice with one liter of lemon-lime soda, then add 4 oz. of sweetened raspberry-flavored drink mix powder and stir well. Serve over ice in a large punch bowl.
Mango Juice
Tip: Make frozen ice cubes with raisins in them so it looks like flies are floating in their juices. Kids just love this!
Dora the Explorer Kid Theme Party Treats
Gummy worms
Animal crackers
Animal fruit snacks
Any kind of animal-shaped foods
Fire Ants (plain or chocolate covered raisins)
Trail Mix
Chips with salsa and guacamole
Mexican cheese with crackers.
Estrella Pequeno (little star sugar cookies – a great Latino treat)
Churros (Latin cinnamon fritters that are soooo tasty. You can find them at a local Mexican restaurant or at your supermarket and serve them with vanilla ice cream for a fun alternative to cake and ice cream).
Worms in Dirt – crumbled Oreo cookies topped with gummy snakes.
Bugs on a Log: Take a celery stick, smother with peanut butter, and add little ants (raisins). Another variation is to dip a pretzel rod halfway into peanut butter and roll in chocolate chips. This is a fun activity for little children and a treat that can be instantly consumed. And, it's even HEALTHY! (seen in the picture below)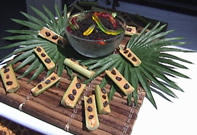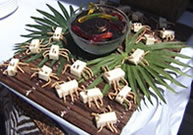 Cheese Bugs – Slice cubes of cheese and add thin, curling snacks (like the type seen in the photo above)
Tip: you can serve many of these foods inside Sombreros or pith helmets.
Dora Party Favors
You can put all the Dora the Explorer kid theme party favors in little backpacks and put inside a items like: small magnifying glasses, funky animal glasses, beenie animal puppets, flashlight, trail mix, Dora stickers and tattoos, and more.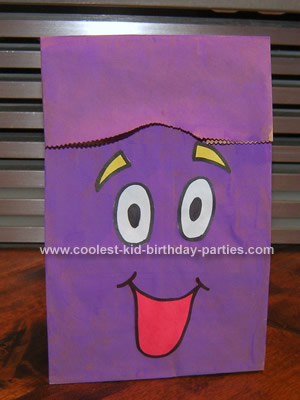 Out of brown bags you can make little Backback favorbags – coloring them in with purple, and adding face details- then put all the favors inside (if you find purple paper bags, even better!).
Dora Games and Activities
Here's a whole page with the coolest Dora party games, such as:
Monkey See Monkey Do
Musical Sombreros
What's in the Mochilla
Animal Charades
and many more (including visitor-submitted kid theme party game ideas)…
You should also read these VERY important tips to help you survive (and enjoy) birthday games time!
Your Dora Parties and Ideas
Some of our visitors have gone the extra mile and written up their complete Dora party story with photos and everything they did. We call these stories "Party Tales" and they serve as a great inspiration! Take a peek at other people's Dora theme Party Tales and you're sure to find lots more outstanding Dora party ideas:
Share your kid birthday party ideas here…
Enough chatter, let's Vamonos to your Dora the Explorer kid theme Party!!
---
Kid Birthday Parties › Kid Birthday Party Ideas › Dora The Explorer Kid Theme Party